Employee Services Chatbot
Author: Neville Postwalla
Posted On Apr 01, 2020 | 4 min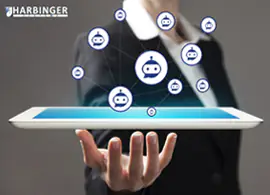 Improve employee engagement and turnaround time for query resolution
Its tough times in the world of business and tough times call for tough measures. Employees are confined and asked to work from home. It's a new kind of work setting for many of us, who are only used to working from home for a couple of days. Now we're working from home all the time! Employees have questions on policies, people and so much more. However, at times, the go-to person can be unavailable or busy in an online meeting. Not having anyone to ask your questions face-to-face can make some people jittery and nervous and this can be the first step towards disengagement.
Under such circumstances, organizations are finding unique ways of connecting and engaging with teams including trying to find different mechanisms to connect with employees and answer their concerns. Few companies have a dedicated phone line that employees can call on to speak to someone about their queries. But at times these lines are busy, or the person might not have all the answers. Other companies have a dedicated email address, but then, there could be delays in responding to the emails.
And then, there are digitally savvy organizations who are leveraging technology to effectively connect with their employees. Harbinger's virtual assistant application is such – an interactive chatbot called 'Harbinger Pritella' – which can engage with employees to resolve their queries and provide related services. Employees can easily navigate Harbinger Pritella with its user-friendly context-sensitive menu, to quickly get a resolution for their queries.
Features of Harbinger Pritella Chatbot-
Pritella can be integrated with the Human Resource Information System (HRIS) to access employee data files and relevant information. Employees can also obtain certain details of any other employee within the organization.
Pritella can provide answers about organization policies and practices.
By integrating it with the Leave Management System, Pritella can help with queries regarding vacation balance. It can share leave plans of the entire team so as to help an employee decide on possible vacation dates and can even help in applying for time off.
As and when the offices reopen, Pritella can help book/ cancel conference rooms reservations.
By integrating it with the Learning platforms, Pritella can provide user-specific learning recommendations based on an employee's role, goals, interests, etc.
Pritella can be used to resolve event-specific queries – such as those related to COVID-19 pandemic.
Pritella has been deployed at Harbinger and seamlessly integrated with SAP SuccessFactors to provide query resolution services to our employees. Since it was launched around mid-2019, there have been in excess of 5,000 queries asked to Pritella out of which over 90% have been resolved directly. It has been a fantastic experience on how organizations can leverage technology solutions to supplement and increase employee engagement.
Attend a micro-webinar on Oct 8, 2020 at 10 AM PT | 1 PM ET and watch this chatbot live in action, register here