Don't Create, When You Can Curate
Author: Sushma Joshi
Posted On Feb 12, 2022 | 6 Mins Read

This blog post transcribes my conversation with a Learning Leader who believes that 'Content Curation' and technology are imperatives to deliver continuous value enhancement in today's world. The 3V model that she prescribes provides a winning framework for an impactful content curation strategy.
I met our guest Joti Joseph recently in a Harbinger organized Power Hour discussion titled 'Designing L&D for Success in a Post-Pandemic World'.
The role of L&D (Learning and Development) has clearly expanded, pivoting around the new paradigm of 'Learning'. In the post-pandemic world, the L&D teams will have to do things differently in order to meet expectations of the business. While upskilling and re-skilling are going to be an ongoing ask, the learning teams will have to transform themselves into a strategic, responsive, and leaner engine that speaks the language of business, uses technology to provide scale & experience, and is able to deliver visible/measurable impact.
One of the ways in which L&D teams can help organizations prepare for the future is by creating personalized experiences and integrating learning in the flow of work. Content curation is a very effective way to accomplish these goals, our guest believes. I explore the topic further with her:
Q: There was a pre-pandemic world before 2019, and shortly there will be a post-pandemic world that we will have to deal with. What will help businesses cross the chasm?
JJ: All professionals need to have the ability to understand and manage opposites.
What I mean by that is, we have to know what is changing rapidly in our world, the impact that technology is having on our systems, our products, and our stakeholder expectations. We have to acquire the skills to respond to the change before it descends on us.
Having said that, what is also important is to have the clarity on what is not changing. Some business fundamentals like clients wanting to be able to trust people, 'simplicity will always be king', are some of the dictums that will never change. We need leaders, managers, experts, peers, graduate trainees, and new joiners who do not get paralyzed by paradoxes but energized by them.
Q: Upskilling and re-skilling are clearly the top priorities for organizations across the spectrum now. What are the new learning initiatives that organizations can adopt to cover the ground?
JJ: Kill the learning function. What I mean is stop the traditional approach of looking towards the learning and development function for your development needs.
There is power in co-creation because it leverages diversity. Put together an expert in Artificial intelligence, a Learning Design expert, a Data Analytics expert, and a client interfacing professional, who are passionate about sharing their insights with their peers; facilitate the transfer of knowledge; and you will get a magical learning solution that delivers greater impact than if those four worked in silos.
The learning function needs to improve its capability about tools and platforms that empower experts in the organization to craft learning. And let`s not chase perfection – after all learning is at the heart of experimentation and experimentation is at the heart of learning.
Q: In terms of building new capabilities for a learning organization, 'Curation Vs. Creation' seems to be catching people's imagination. You too are a strong advocate of it. Why?
JJ: Because all smart people are lazy 🙂 Why create something when someone has already created it? I would rather spend time adding value to what has already been done.
As a learning professional, connecting four pieces of great content by adding the context of the learner in the mix, is truly delivering unique value. The thread that connects curated content together is value that an "outsider" cannot understand and therefore cannot create. The inside view that a curator has is precious. It creates the potential for exponential impact. So, for L&D it is understanding that curation is not just bundling 1 video + 1 article + 1 podcast but understanding the contextual communication that introduces this bundle, launches it at a critical time when the learning can be applied and wrapping it in a community of practice that then powers the learning without the L&D function being involved at all. Believe me, it works!
Someone rightly said, "the true measure of one`s own success is redundancy🙂".
Q: Do you have any guidelines or framework to recommend for an efficient curation strategy?
JJ: Sujatha Ramesh, a learning vendor-partner who I collaborated with gave me the principles of 3V – Volume, Variety, and Velocity.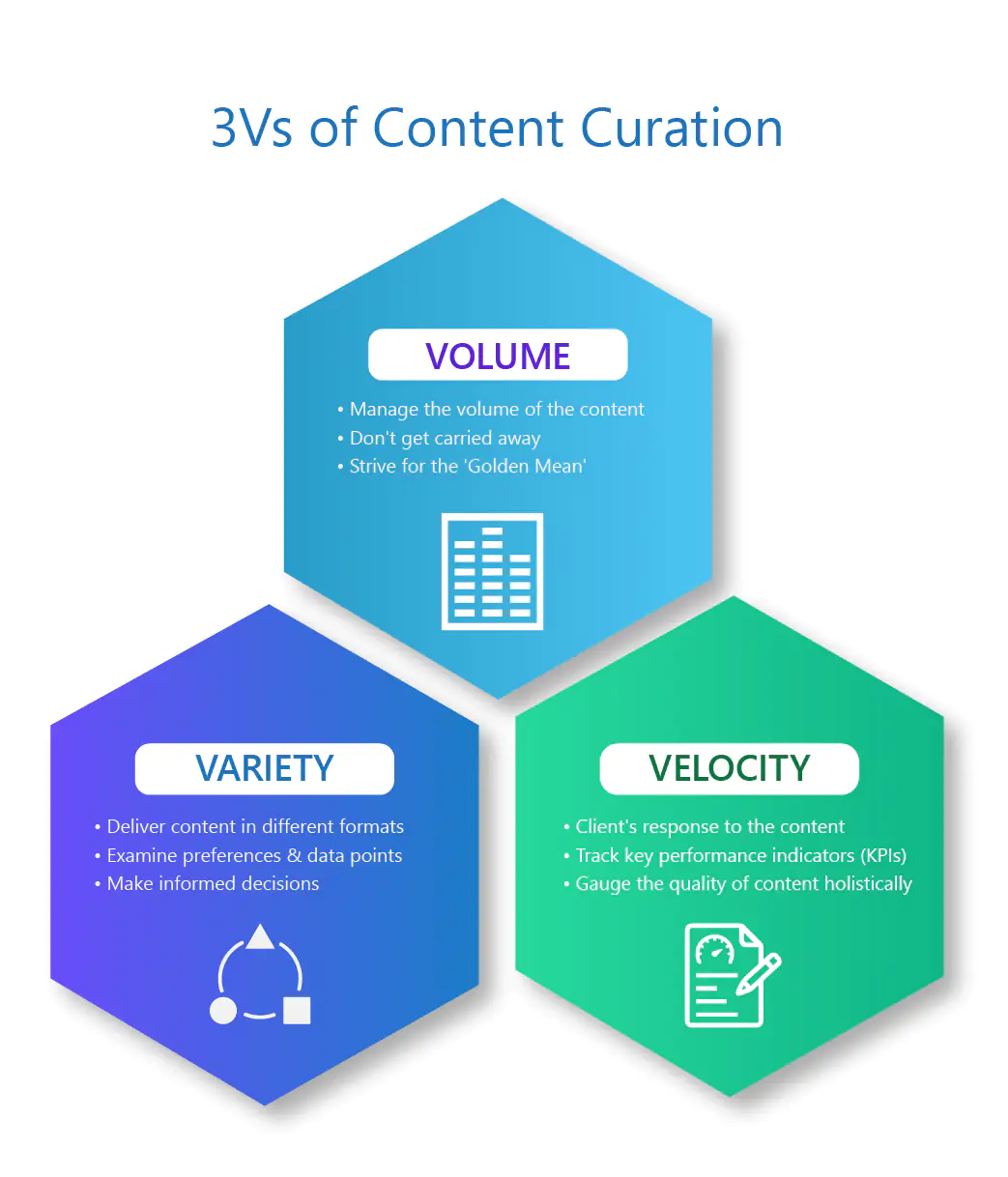 Click to view enlarged version
When curating content, manage the volume of content that you are sending in the way of our consumer. Do not overwhelm, don't starve. Eternally strive for the golden mean.
Give people content in different forms. Check your own personal preferences and look at the data, listen to the feedback and make conscious choices about different types of content.
Finally, velocity – how are our clients interacting with the content. I know how YouTube and Facebook have driven likes and shares as measures of success. I think we in L&D do need to measure those KPIs, but I would not rush to judgment about the quality of content on the basis of those alone. I would triangulate that with other data on performance.
Q: What are some of the pitfalls that can dilute the impact? Some warning signals that you may want to give to L&D professionals who are keen to venture on the 'curation' path.
JJ: Don't fall in love with your own expertise, content, design, or product so much that it becomes a blind spot. The only advice I will give all professionals including L&D, is " The main thing is to keep the main thing, the main thing at all times." If you really care about the main thing, you will keep observing the feedback and keep asking for it, listening to it, understanding it and then do something about it.
Don't curate without care and context. Take the time and effort to understand what problem we are trying to solve or what opportunity we are trying to capitalize. Have loads of empathy for your audience while curating.
Be passionate enough to tend to curated content, the way you would tend to your garden. If you neglect it, it will wither and die.
Be humble and keep your ego in check. Creation is always more satisfying for the ego; curation requires us to recognize others. Do not give in to the temptation of creation unless absolutely necessary.
Do not get tempted by duration. The time spent on content has to be a function of the result we are trying to drive and the behavior we are trying to change. You would not want a pilot or surgeon or a teacher to learn their skills in short 1.5 minute videos!
Do not curate without a continuous feedback loop.
Q: How can technology be leveraged to deliver maximum impact?
A human centered L&D practitioner will use technology to craft learning experiences and curate content for people in countries and regions where there is no trainer. Take the ingredients of content from LinkedIn Learning, add a dollop of AI powered recommendations from Degreed or Edcast, wrap it in a virtual 90 minute webex with breakout groups, and close the session with Mentimeter feedback. I, in India or Zurich can do that for my audience in Toronto or Taipei. How amazing is that! Scale and reach should never ever be a problem again.
The other amazing thing about platforms and technology is the power of user and expert generated content. Let's assume that I as a learning expert co-create a short video with a subject matter expert where I enable her to understand what creates impactful learning. She then shares her expertise in a way that aligns to memorable and applicable learning. Suddenly you are expanding the scope of the learning community not just to "traditional trainers" but to an expert community that trainers used to do annual training needs analysis with! We in learning need to be more curious about platforms, rapid authoring tools, video, and audio capability. The only note of caution I will sound is do not let the tool or the tech take center stage. Then you have missed the whole point. The center stage is always the human beings who we are trying to do something for.
Technology also has taken feedback to the next level. With tech I am not just administering surveys more efficiently, but I am not able to observe your choices and behavior based on time spent on content, actions taken, shares, and recommendations. Because, in my design thinking training, I was taught, what people say, what people do, and what people say they do can be three very different things. Technology helps identify and understand these three things better as compared to surveys that focus only on what people say.
---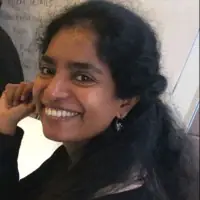 Joti Joseph is strategic learning and development (L&D) leader of global repute, with 26 years of experience in learning and development.
Joti currently resides in the Swiss city of Zurich. She works to foster digital learning transformations by facilitating experimentation with innovative pedagogies.
She has recently started a fresh stint with Vontobel as Director, Talent and Learning.
Disclaimer: The views, thoughts, and opinions expressed in this blog are our guest's personal views and do not represent any organization or group.