Digital Accessibility Best Practices to Deliver Great Learning Experiences
Author: Manasi Mehendale
Posted On Jul 01, 2022 | 7 Mins Read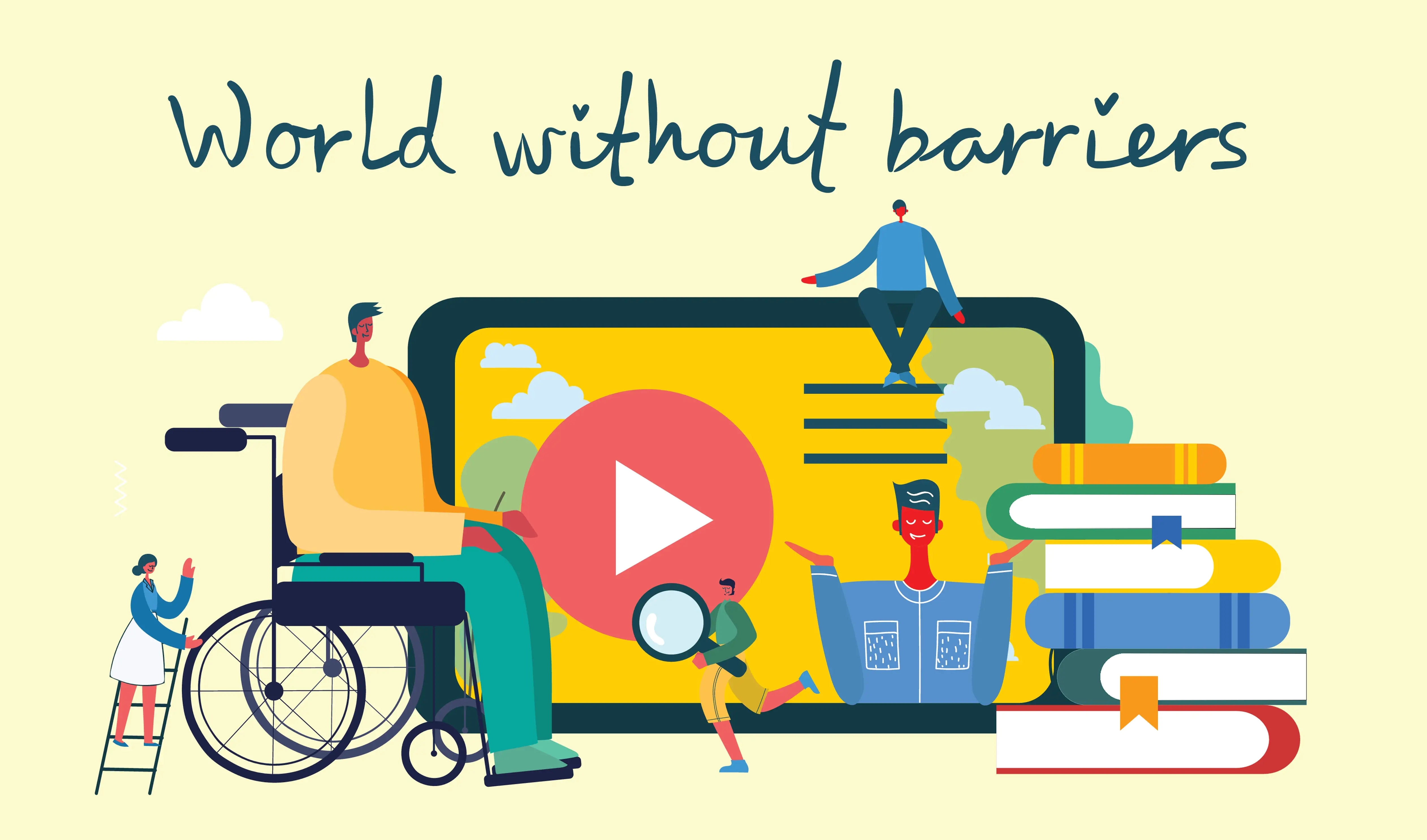 Millions of students and learners who learn and think differently don't get the desired support they need in their school or workplace. When discussing about the future of education and future workplaces, one key aspect of that ecosystem we need to consider is ensuring equity and inclusivity. And to achieve this objective, a key driver is to make learning resources accessible for all. Digital accessibility is a topic that is slowly and steadily gaining importance across the globe, and rightfully so. According to an article published on the World Wide Web Consortium (W3C) Web Accessibility Initiative (WAI) website, the global market of people with disabilities is over 1 billion, with a spending power of more than $6 trillion.
The spectrum of disabilities is quite broad and diverse when it comes to accessibility considerations. These could broadly be categorized as:
People with permanent disabilities
Disabilities due to age
Situational disabilities or disabilities that are temporary in nature
Looking at these categories, it is important to consider the different needs of the learners. The Americans with Disabilities Act (ADA), Revised Section 508, and Web Content Accessibility Guidelines (WCAG) including WCAG 2.0 and 2.1 have outlined critical accessibility standards, making it easier for organizations to address the accessibility requirements in their learning content and design.
Digital accessibility is not only a legal mandate as per the ADA, but it is also recognized by the UN Convention on the Rights of Persons with Disabilities (CRPD) as a basic human right. There are more reasons to make content digitally accessible. Read our previous blog post "Top 5 Reasons to Implement Digital Accessibility" to find out.
Digital Accessibility Best Practices for Your Learners
Accessibility is a shared concern for anyone in the eLearning domain. Here, we list out some of the best accessibility practices organizations must consider so as to implement inclusive learning and engage and benefit more learners. The goal is to design content in such a way that it is accessible for learners with disabilities and simultaneously inconspicuous, so that a normal learner wouldn't easily notice it.
1. Ensure Clear Layouts
According to the WHO, globally, at least 2.2 billion people have a near or distance vision impairment.
To tackle this challenge, consider a design that will not cause any eye discomfort to the learner. The content on the screen should be arranged thoughtfully, so that the screen is not filled with too much information. The idea behind a clear layout is to ensure the different parts or sections on a web page are easily identifiable.
When navigation links, text portions, and even clickable links are easier to spot, the design consistency greatly helps learners with low vision or cognitive disabilities.
Additionally, the W3C accessibility guidelines on color contrast don't recommend using color alone to convey any kind of information or meaning. This is because learners with visual impairment could miss out on crucial distinctions in the content.
2. Use Alternative (Alt) Text for Images
People with low visual ability often use screen readers. These tools convert text to speech, so that the user can hear the words displayed on the screen. To make this easier, skip decorative images and use alt tags to describe every image and diagram.
When writing the alt text for an image, consider the context of the image being displayed. The text must provide all the information for the image, including the background details or the purpose of the image in that specific context.
This means that an image may need varied alt texts, depending on where and how it is being used.
3. Support Keyboard Navigation
As per a WCAG recommendation, keyboard operability is extremely essential to making digital content accessible.
This functionality ensures every user has access to the content without the need for a mouse. It is especially for users with motor disabilities and those who use screen readers. To support keyboard navigation, the content must have a visible keyboard focus, and there shouldn't be any navigation barriers when using the keyboard interface.
4. Offer Skip Navigation
As per the Success Criterion 2.4.1 'Bypass Blocks' of WCAG 2.1, "A mechanism is available to bypass blocks of content that are repeated on multiple web pages."
As a recommended accessibility practice, skip link is strongly recommended for optimal accessibility on pages with repeated navigation. To implement this, include a 'skip navigation' link at the top of the web page to allow learners who use a screen reader to ignore navigation links and skip directly to the webpage content.
5. Support Assistive Technologies
According to the WHO, only 1 in 10 people in need have access to assistive products.
Assistive technology enables and promotes inclusion and participation, especially of people with disabilities, the aging population, and people affected by chronic diseases. Allowing the use of assistive technologies such as screen readers, magnification devices, and hearing aids improves a learner's overall functioning. It allows specially-abled learners to operate the content independently.
Additionally, the digital content needs to have links that are large and easy to identify, keyboard shortcuts, and a great keyboard navigation strategy. Basically, you need to have an accessible design for your content.
Digital Accessibility for Inclusive Learning Experiences
Harbinger recently hosted a Power Hour on Digital Accessibility: From the Viewpoint of Decision-Makers with industry experts Casandra Blassingame, President and CEO, IACET; David Berman, Accessibility Expert, David Berman Communications; and Krista Weber, Director of User Experience, Vector Solutions. This interactive webinar was hosted by Dr. Vikas Joshi, CEO, Harbinger Group.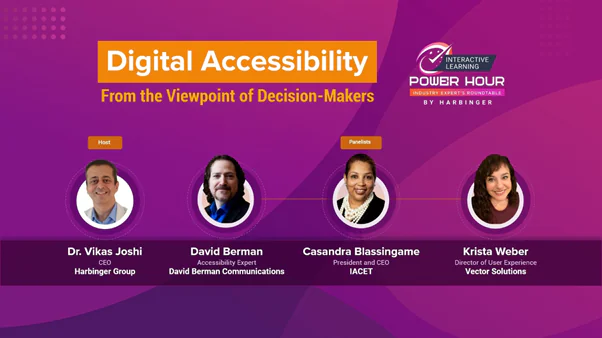 These leaders from the corporate L&D space, academia, and the accessibility domain shared their ideas on:
How to create a roadmap for implementing accessibility at scale
Plotting and connecting the dots for accessibility
Frameworks for implementing a scalable accessibility strategy
Pointers to identify the best accessibility strategy
Challenges to overcome during this change transformation journey
Harbinger has several years of experience in designing programs conforming to web accessibility implementation, VPAT documentation creation, product accessibility, and more. We also have a comprehensive eLearning accessibility guide covering critical considerations to create ADA, WCAG, and Revised Section 508 compliant accessible eLearning content. Our eBook also gives out some great tips to decode the design element to making online courses accessible.
If you have an idea to discuss or need help with implementing accessibility in learning, please write to us at contact@harbingergroup.com. Harbinger experts will be happy to help you design accessible eLearning content to create inclusive learning experiences that fulfill all eLearning accessibility considerations.