Author: Marketing Desk
Posted On Apr 05, 2016 | 4 min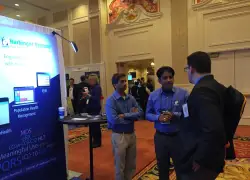 HIMSS annual conference and exhibition 2016, held at the Sands Expo and Convention Center, Las Vegas, Nevada, from Feb 29 to Mar 4, provided an unparalleled opportunity to learn and experience the latest Health IT ideas, innovations, and disruptions this year. Harbinger Systems was stationed at booth #8450, showcasing next-gen technology innovations to help healthcare ISVs build products enabling digital transformation. More than 40,000 conference attendees were gathered to discuss the recent innovations in technology and have visited 1,300+ vendors showcasing their ideas for the future of healthcare IT and wellness.
Attendees at the conference varied from clinicians, government regulators to healthcare IT vendors. Some of the topics they discussed were:
Wearable health technology
Population health
Connected health, and
Healthcare analytics
EHR and interoperability seemed to be the big winners at HIMSS, followed by Health IT security; which was at the root of each and every topic, understandably so, as provider & patient privacy is primarily a major concern in the healthcare IT industry.
On the first day of the conference, we had the opening keynote session by the US secretary of health, Sylvia Mathews Burwell. She talked about interoperability and stressed on ending information blocking, and initiating with health IT standards & interoperability to achieve meaningful reforms in the US healthcare system. She also touched upon the interoperability standards needed and the work ONC (Office of the National Coordinator for Health Information Technology) has taken up to optimize the health data flows.
On the other hand, Michael Dell, CEO & Chairman, Dell Inc., spoke on healthcare cyber security, mobility, and hybrid cloud systems. Dell also mentioned the emerging health IT applications, such as immunotherapy, molecular imaging, precision medicine, and genomics as the immediate future. The other exciting parts at the conference were the discussions around Healthcare IT marketplace, End-of-life care, etc.
Moving further, we witnessed that healthcare analytics and IoT-based healthcare occupied everyone's mind space at HIMSS, including Twitter and other social media channels.
Many healthcare ISVs and vendors acknowledged that health data analytics still remains a challenge; and actually needs to speed up. Organizations are trying to generate new ideas, innovations, and techniques to improve functionality and interoperability of health data in order to get latest and fastest insights. The focus is also on preventive care through healthcare analytics.
Even interoperability is still a challenge, as the data is not exchanged within the departments properly to generate apt insights. Many medical device companies seem to be working closely with the EHR/EMR vendors to bridge this gap. We showcased how the advanced data modeling techniques utilized by us aid in analyzing the effectiveness of drugs and, in fact, help predict the time span of patient's stay in the hospitals, in short, delivering better health outcomes for patients. These healthcare intelligence data models can further be extended in determining the cost of care in direct pay scenarios. We also unveiled our provider frameworks, which aid healthcare product companies in coming up with Provider Network Adequacy and Provider Performance Assessment solutions, within the shortest time window.
IoT in healthcare was also one of the show stealers at the conference. Various devices and technologies showcased in the event would surely disrupt the conventional healthcare ecosystem when launched commercially. For instance, we got a great response from the attendees for one of the IoT-based products we developed for a healthcare ISV, that helps in easing the communication between nurses and patients.
On a whole, it was an excellent opportunity to learn and experience the latest developments in the Healthcare IT ecosystem. We received an overwhelming response and the attendees at HIMSS have shown their immense interest in our dedicated experience and expertise with new emerging technologies via social networking sites like LinkedIn, Twitter, Google+ and Facebook.
At HIMSS 2016, Harbinger Systems made it in the top 300 Twitter users in promoting live updates about the conference.
HIMSS annual conference and exhibition was indeed an insightful event and an impeccable platform to meet the leading industry players in the healthcare IT space. It was overall an amazing experience to get exposed to the new ideas in the field of healthcare and we definitely look forward to the next event in the coming year.
*Image courtsey- @scraawl