Author: Marketing Desk
Posted On Apr 24, 2015 | 3 min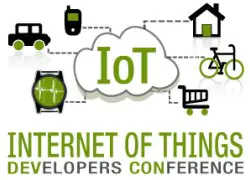 Internet of Things (IoT) has generated a sense of intrigue across the entire demographic. With a wide range of applications ranging from our day-to-day life to as large as collectively managing a whole city, IoT can surely be counted among the most significant technological advancement of our times.
Though there are diverse aspects of every IoT application, one can find some common ground like connection between various smart things, remote processing and data management and analysis, to achieve rich interactivity and insights. One cannot emphasize enough on the importance of frameworks and methods that enable processing of events arriving from diverse sources like sensors, RFID, GPS, etc.
We are pleased to announce the details of our poster session Complex Event Processing Model in IoT at IoT DevCon 2015 Conference being held at Hyatt Regency, Santa Clara, from May 6-7, 2015.
In this session, you will explore how we handle IoT implementation with optimized complex event processing. The session will bring light to the importance and role of frameworks and methods in enabling complex event processing amidst heterogeneous sources/streams, with the help of some appealing real world case studies.
We look forward to interact with you at the conference.