Author: Rahul Songadkar
Posted On May 23, 2014 | 5 Mins Read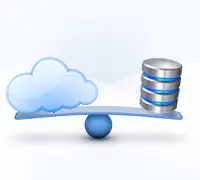 Business uptime is critical to an organization's growth and revenue. In my earlier blog we read about the importance of Data backup and recovery and how a well drafted recovery plan helps in getting your systems up and running again quickly.
Typically businesses take a decision on an acceptable Recovery Time Objective (RTO) and a Recovery Point Objective (RPO) for their systems based on the financial impact that they may suffer due to system unavailability. There are many aspects that lead us to a selection of a data recovery mechanism and with advent of cloud base storage solutions, organizations are presented with more options for data recovery model with this in tow, let us compare data recovery in cloud with a traditional on premise datacenter.
Factor
Cloud Data Recovery
Traditional On Premise Data Recovery
Ease of Getting Started

One just needs to configure services provided by cloud provider

Deploying and Managing an on premise data recovery plan usually tends to be complex, requiring significant timeline, budgets and resources you might not have

Simplicity

Simplified environment, reduced complexity of recovery
Improved recovery reliability by maximizing features of automation and cloud technologies, thus minimizing risk of failure to recover

Building an all-inclusive data recovery plan can be complex when compared to cloud based recovery, irrespective of whether you do it yourself or outsource it to a service provider

Time

Significantly shortened server recovery time

Recovery time can range from couple of days to weeks

Cost

Optimum utilization of resources, as the cloud service provider owns the hardware, businesses don't have to pay for idle machines
As mentioned above, there is no need to purchase huge infrastructure to store the r data, Cloud based data storage solutions enables small and midsize businesses to have the same RTO, RPO and security as any large organization, without having to deal with significant overheads.

The significant upfront investments required to establish an on premise data center and recovery plan can force you to compromise on some parameters and thus leaving your system vulnerable at some points.
A secondary data recovery site to enable redundancy can drive upwards your costs in a major way, for example you would need an additional space, more manpower to manage the center, power and cooling bills etc.

Management Consistency

Cloud providers simply have services setup which will take care of everything. You don't need to worry about day to day activities required to ensure data recovery objectives

As the data recovery processes evolve continuously, one needs to upgrade to new skill set on an ongoing basis to ensure data recovery objective compliance

Scalability

Easily scalable as per your business needs

Does not scale up or down easily

Response Time and Latency

A CSP can store data in diverse locations far apart from each other according to his feasibility. This can give rise to latency issues
Cloud based storage solutions are not recommended for applications that demand high response times and low latency

Mostly an organizations physical data recovery site is located at the nearest feasible location to ensure high response times and thus reducing latency issues

Application Compatibility

With cloud based recovery service , one needs to ensure that their applications are compatible with the CSP's infrastructure
For example some applications may require a specific environment for them to run, which might not be available with the CSP

For highly custom applications, one should opt for physical DR
Now since we have established that for most of the applications and requirements a cloud based data recovery service is better, let us see some options for cloud data recovery.
Managed applications and managed DR
In this option, one puts both primary production and disaster recovery instances in cloud and have them both managed by the CSP. With this one can derive and maximize the benefits of cloud computing such as pay as you go and eliminate infrastructure investments
Organizations choosing this option must select the CSP with due diligence and negotiate a service level agreement which is conducive for one's business objectives
Back up to and restore from the cloud
This option is a substitute for tape based offsite backups. In this approach the applications and data remain on premise , with data being backed up on cloud regularly
When a disaster occurs, the data from cloud instance can be loaded on-premise to allow the systems to continue functioning
Back up to and restore to the cloud
Here, the data is stored in the cloud, but when the disaster occurs it is not restored back on-premise, instead it is stored in virtual machines in the cloud and will start serving your business from there, which can easily be achieved with Amazon's Elastic Compute Cloud
Replication to virtual machines in the cloud
This approach is suitable for applications/data which are critical to a business and cannot suffer from extended downtime.
These applications require a continuous data protection(CDP) to replicate changes in data immediately from on-premise to cloud
Cloud provides many options w.r.t your requirements and budget especially for small and medium sized businesses when compared to a traditional on premise data center. With growing adoption of cloud, we would see more customization in data storage and tight recovery time SLA's.
References:
https://www.techtarget.com/searchdisasterrecovery/feature/Disaster-recovery-in-the-cloud-explained