Cloud Expo West 2015 Highlights
Author: Umesh Kanade
Posted On Nov 27, 2015 | 3 min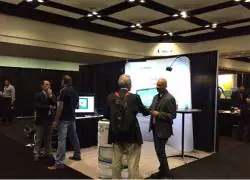 Attending Cloud expo has always been a great opportunity to interact with industry experts and discover new ideas. Recently, I attended the Cloud Expo Santa Clara conference wherein Harbinger was a speaker and an exhibitor. The 17th International Cloud Expo, by Sys-Con media was held from November 3 -5, 2015 at Santa Clara Convention Center, CA. The event brought the realm of Cloud Computing, BigData Analytics, Internet of Things and DevOps on a single platform. It comprised of a vast selection of technical and strategic industry keynotes, general sessions, breakout sessions, and signature power panels. It was a great platform to connect
with industry veterans, business leaders and exchange views on Cloud, Data Science and IoT. Harbinger has participated in the CloudExpo for the third consecutive year, making it a remarkable event for us.
Cloud Expo, 2015 had more than 100 booths, demo theaters and exhibits, and featured 175+ sessions. The exhibitors offered specific solutions and comprehensive strategies, including a demo theater that provides delegates the opportunity to get even closer to the technology they want to see and the people who offer it.
Harbinger Systems was a speaker as well an exhibitor at the CloudExpo 2015 and was stationed at booth #221. This year we had a session on 'Harnessing the power of linked open data cloud for better decision making' on November 3. Our session threw light upon the approach to access, re-organize and load valuable data from linked open data cloud in user environment to enable Big-Data Analytics, showing some real-life examples as how some companies are benefiting by the implementation of dataset from open data cloud for making informed decisions in their practices. Besides, we also touched base on the use cases and implementation approach of open data in healthcare and opportunities for innovation and solutions to exploit open data.
On November 4, second day of the event, Shrikant Pattathil, President, Harbinger Systems delivered an insightful session titled 'IoT for You- Smart Watch, Smart Home, Smart Office' which has been designed to help companies by sharing insights about challenges in the IoT space and showcased our expertise in varied IoT based solutions.
Here are few notable speaker session highlights:
Red Hat spotlighted the demand of quick changes in IT and increasing business agility by DevOps. The session brought up a wide range of things – starting from accelerating application delivery with DevOps, transformation of IT to a DevOps, Microservices, and Container based Cloud Architecture using PaaS, DevOps practice in PaaS environment etc.
Dave McCarthy, Director of Products, Bsquare Corporation talked about the business case for IoT. He mentioned, meaningful and tangible business cases for IoT are plentiful in a broad array of industries and vertical markets, ranging from warranty cost reduction to minimizing downtime which further improve product design and enterprise customer experiences.
Oracle shared insights about mobility and enterprise security, emphasized on the importance of understanding the benefits and challenges of on-premise to cloud migration. They infact demonstrated a range of cloud offerings including migrating On-Premise J2EE application to Oracle's Java Cloud Service.
The CloudExpo west, 2015 was indeed an insightful event and a significant platform to meet leading industry players in the cloud computing, IoT and Big Data worlds and get exposed to new ideas. It was overall an amazing experience and we definitely look forward to the next CloudExpo event coming year.