Author: Anuj Pillai
Posted On Aug 30, 2022 | 9 Mins Read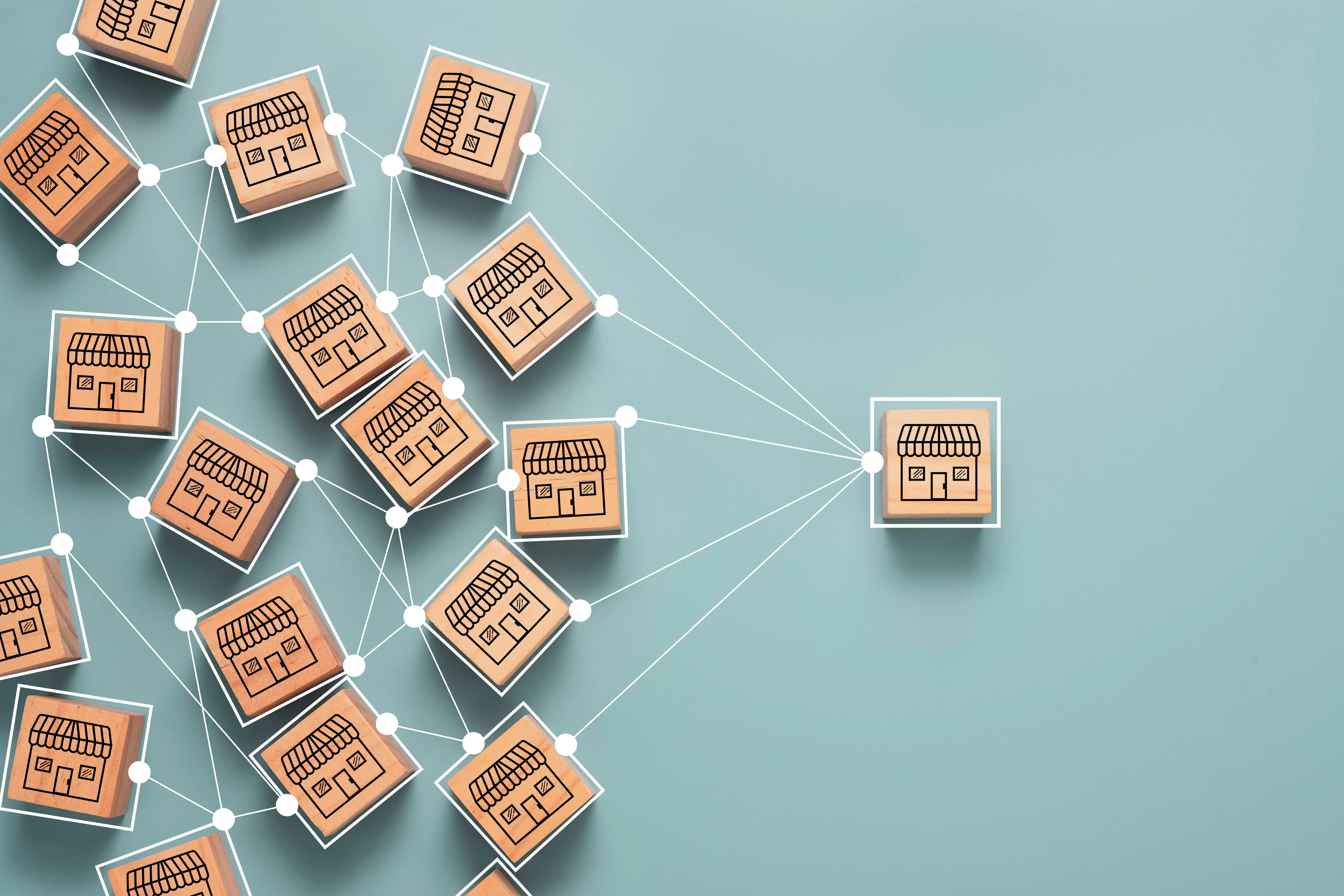 According to the Brandon Hall Group, 44% of organizations agree extended enterprise learning reduces training costs and 31% say it maximizes client retention. And yet, only 14% of organizations deliver learning to suppliers and 17% to resellers.
You may ask, "What is extended enterprise learning and why should I care about it?" Well, here is what you need to know about extended enterprise learning.
Coined in the '90s at the Chrysler Corporation, the term "extended enterprise" was first used to explain the necessity for a collaborative relationship between supply chain members. In addition, its earliest use was to focus attention on the competitive advantages that could be gained when suppliers become partners.
Extended enterprise learning is basically enabling learning for these partners to get them up to speed with company goals, product knowledge, its features, and other aspects, so that they can implement and sell better. An extended enterprise ecosystem comprises:
Vendors
Channel partners
Implementation partners
Support teams
Resellers
Franchisees
Suppliers
Distributors
Sales and marketing teams
End users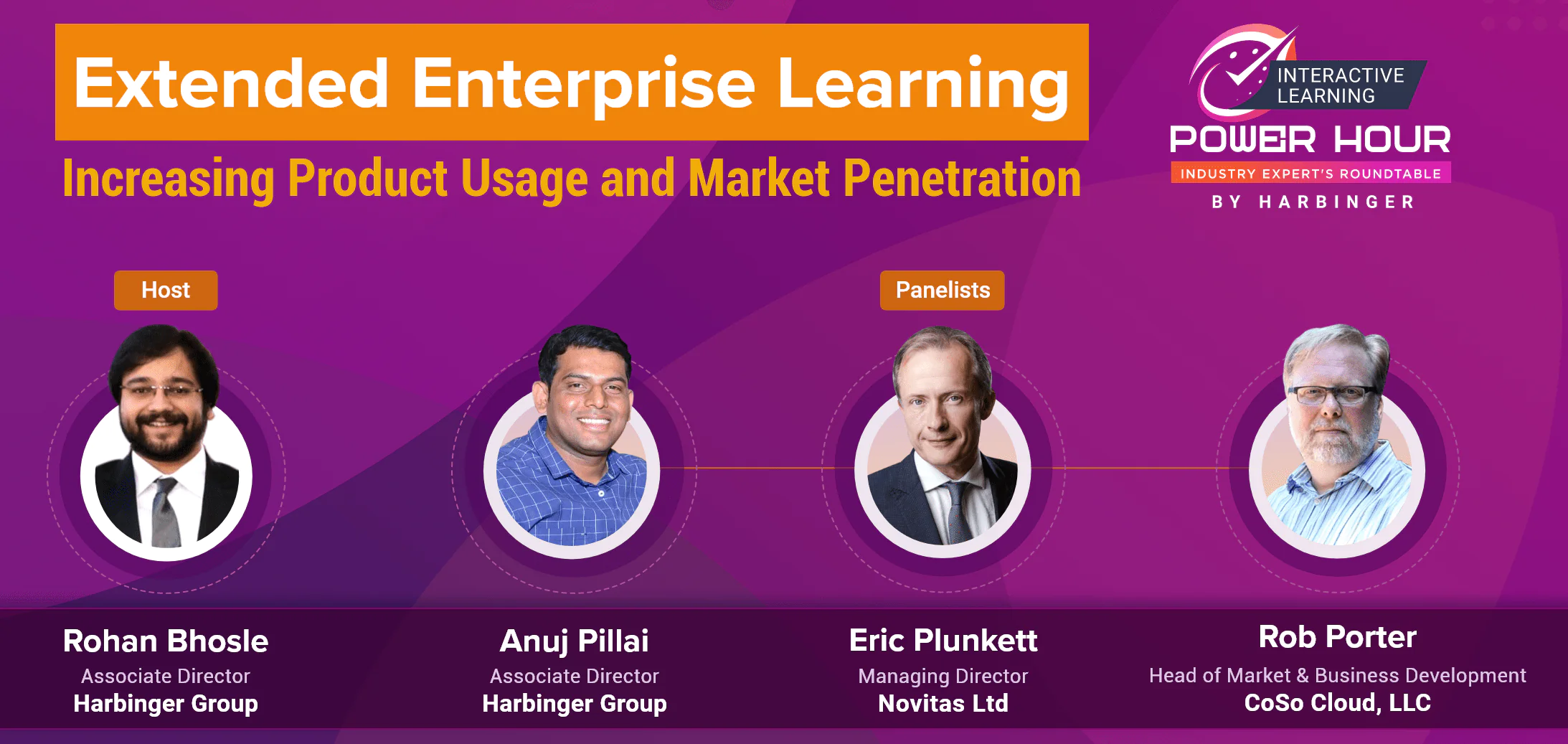 In our recent Power Hour "Extended Enterprise Learning: Increasing Product Usage & Market Penetration," leaders from leading software product companies shed light on the "what," "how," and "why" of extended enterprise learning. This insightful webinar featured expert panelists Eric Plunkett, Managing Director, Novitas; Rob Porter, Head of Market & Business Development, CoSo Cloud; and Anuj Pillai, Associate Director, Harbinger Group. It was hosted by Rohan Bhosle, Associate Director, Harbinger Group.
Why Your Business Needs to Implement Extended Enterprise Learning
Coming back to our blog topic, now let us understand the business benefits of extended enterprise learning. Here are some of interesting statistics that prove the significance of extended enterprise learning for any business. A 2022 Research Summary on "Learning and the Extended Enterprise" by the Brandon Hall Group reveals that extended enterprise learning helped:
53% of companies grow awareness of their products/services
49% of companies improve customer relations
44% of companies increase employee engagement
38% of companies meet and exceed corporate objectives
30% of companies boost sales
As we discuss the benefits of implementing extended enterprise learning, we first need to understand that drastic changes are currently being witnessed in the way learning is designed and delivered. And there are two reasons to the existence of this sort of disruption:
The first reason is the introduction of new technologies like AI, chatbot, learning experience design, 3D, VR, and AR
The second reason is the introduction of new concepts in the learning space, like gamification, experiential learning, adaptive learning, just-in-time learning, microlearning, and nudge-learning
4 Key Benefits of Extended Enterprise Learning
Brings efficiency
Your extended enterprise consists of external stakeholders. If you have structured training content and technologically robust training delivery systems in place (like a multi-tenant LMS), there is a good chance to improve the efficiency of your extended workforce.
The aim here is to organize that what is currently scattered. With extended enterprise learning, you can ensure to have the latest content which is well-structured. Importantly, your extended enterprise workforce will have access to a single source of truth. And this brings efficiency. Know that even a 2% increase in efficiency can convert into a good ROI and increased revenue.
Reduces knowledge gap
It's possible for knowledge gaps to exist between customers and partners due to the lack of an extended enterprise learning system. And this would create future challenges. For example, if your channel sales don't have access to the latest product information and sales training, they could miss crucial sales wins.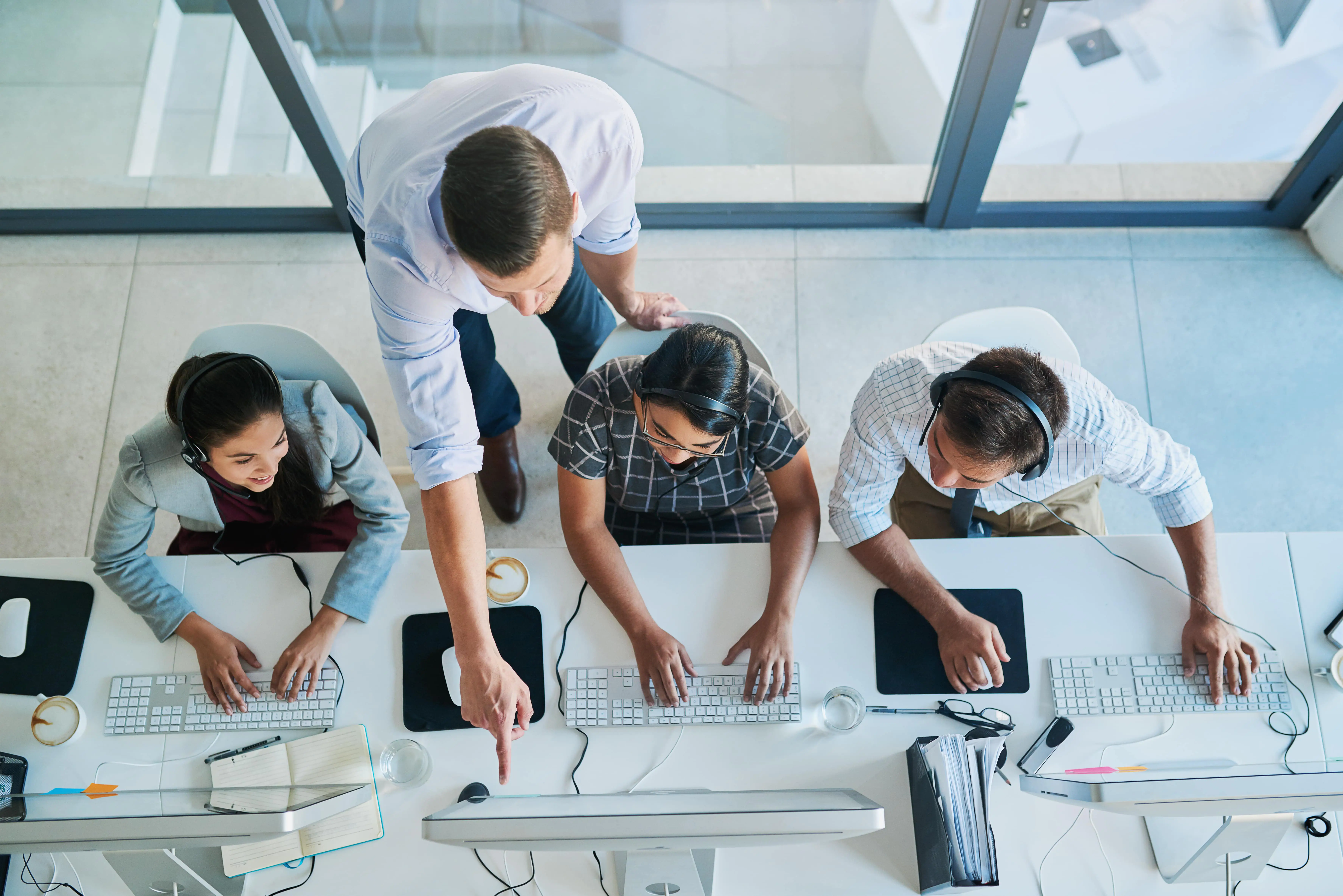 Enables accurate reflection of the brand
Every company projects a certain brand image and positioning in the market. Now, if the same messaging is not passed on to your extended enterprise, your brand would not reflect in the market the way you intended it to be.
In today's economy, businesses are heavily dependent on their extended enterprise, and it is true that the extended enterprise workforce are the ones who face customers and depict your brand. So, the question you want to ask yourself is, "Do I want my brand to be projected the way I originally intended?
With extended enterprise learning, you can get all stakeholders on the same page and to behave or function in a way that helps correctly reflect your brand. You may not realize it immediately, but it will prove extremely important to your business as and when it grows.
Establishes processes
Establishing processes is another powerful benefit of implementing extended enterprise learning. It is highly important to have a proper process to deliver training, deliver your brand message, and collect feedback from your extended enterprise, especially if your organization is large or has a large footprint.
It is often said that large corporations are like elephants and are unable to move quickly as compared to small organizations. Well, if you have a process established via extended enterprise learning, you can adapt to changes quicker. This is because you can communicate with your extended workforce immediately and pass on the desired message or call to action.
A Final Word
In the current business environment, it is not just about providing certification or onboarding training to your extended enterprise. But it's more about being in close communication with your extended enterprise and creating efficiency for them.
You want the messaging that originates within your organization to pass on to the extended enterprise effectively. And the time it takes to pass on the message, coupled with the time it takes for the extended enterprise to implement or act on it, is very crucial in today's fast-paced world. The messaging could be learning, information, process or SOP, technical training, news, communication about changes, and so on.
Speaking of how traditional learning has worked for the extended enterprise, it's clear that the conventional way of learning has not been effective in building the right efficiency for the extended enterprise. This is because traditional learning is mainly limited to product manuals, instructor-led training, occasional training, or some level of eLearning.
Hence, apart from the key benefits of implementing extended enterprise learning explained above, 'business efficiency' is something you should be paying close attention to. We are talking about your brand and your brand messaging here. It is often your extended enterprise that faces the customer.
It's a huge deal to being able to communicate your brand to the customer as your company originally intended. This ultimately leads to increased revenue or optimized costs, or both for your organization.
Do you agree? I look forward to knowing your thoughts on this important topic. Drop us a message at contact@harbingergroup.com.