Between Minds – A Creative Approach to Building Stories
Author: Nikita Sharma
Posted On Apr 26, 2018 | 6 Mins Read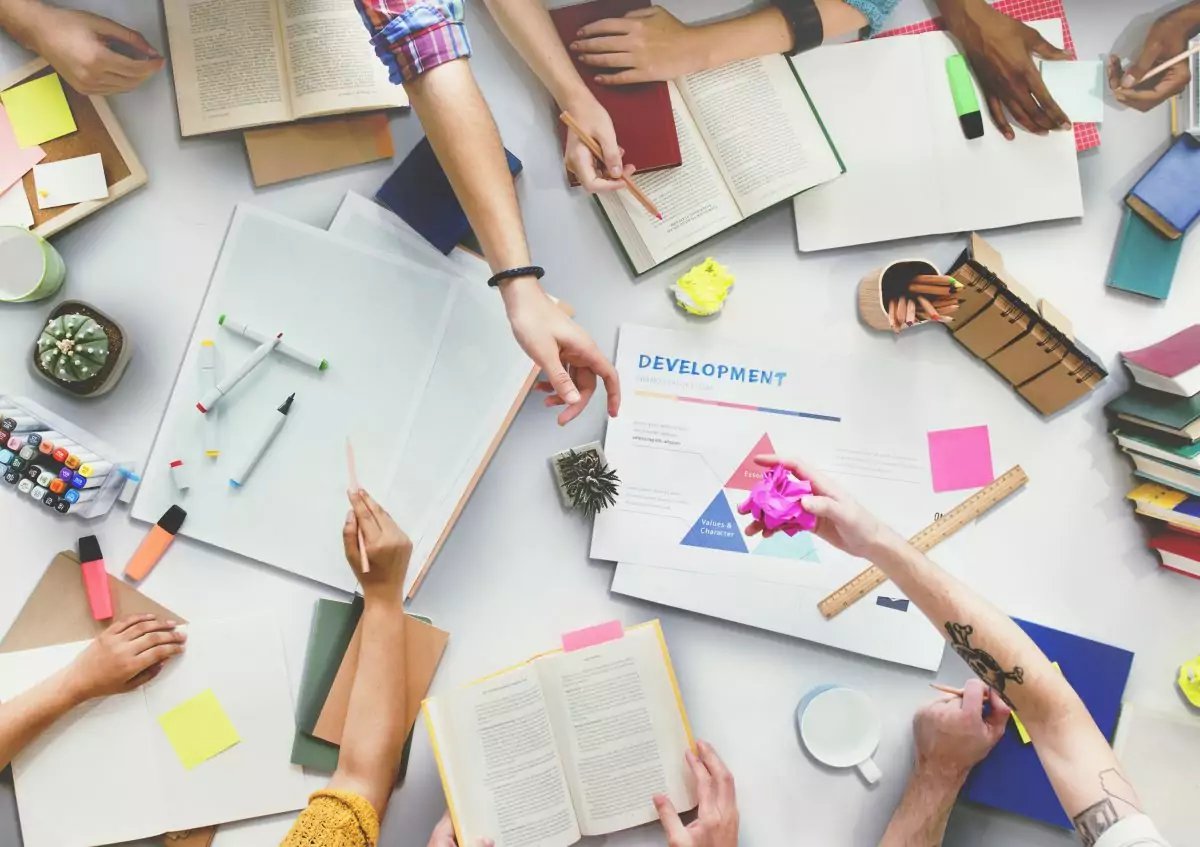 How often have you experienced a challenging situation or dilemma where you were thinking hard and eventually just wanted to bang your head against the wall? How did you deal with the situation?
Maybe you brainstormed, without even realizing it. Brainstorming is a relaxed, informal approach to problem solving that promotes lateral thinking. We, at Harbinger, run a program called 'Between Minds' based on the brainstorming approach. This is a cross-functional meeting that brings together the Instructional and Graphics Design teams with the core objective of promoting design thinking. Random cross-functional groups are formed for each session, and every time a session is conducted, we get to deal with a unique challenge and come out with a new perspective of looking at things.
In a recent Between Minds session, each group was given a phrase and the expectation was to build a story in the next thirty minutes. Colors and papers were provided, and all the teams used drawing as their tool for weaving their stories. The ultimate objective of this activity was to get the team members work on a critical timeline and come up with a solution, by using their lateral thinking and problem-solving capabilities, along with acknowledging difference of opinions.
Listed below are some stories that the groups came up with:
Phrase: Dr. Spark Invents Time Machine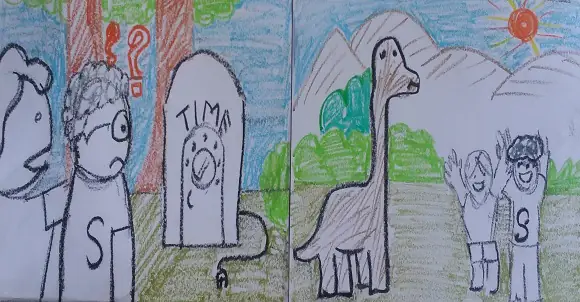 This is the story of a scientist who invents the time machine post which he assumes any invention would be a cake walk for him. Hence, he further embarks on a journey of inventing telephone. Unfortunately, that turns out to be the biggest mistake of his life as he lands into an era where telephone was invented but not electricity. Thus, there is no power source to which he could connect his time machine and come back to the present. This strengthened the fact that we must keep things simple rather than complicating our journeys. The story also emphasizes on the importance of paying attention to details.
 Phrase: Age is Just a Number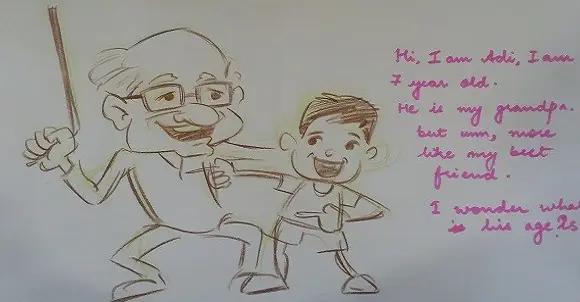 Another interesting story that came from one team was about an old man and his little grandson. The grandfather, despite being old, is no less than the grandson when it comes to being mischievous and having fun. Both steal ice-cream, fight for the video-game, and love to play scrabble. This story highlighted the fact that if you are willing to do something, then age is just a number. It also beautified how two people separated by a huge age difference were so alike. This story had a sense of simplicity and an essence of nostalgia which took the audience back into the memory lanes of their childhood. It also taught us how simple things could make a big impact at times.
Phrase: A Dark and Stormy Night

Another interesting story was about a dark stormy night when a group of friends lose their way into the woods. They are wet and homeless, and upon finding a shelter, they enter it only to be confronted with spooky sounds. They hear the crying of a cat, squeaks of a baby and some smoke emerging from another room. Flashbacks of all the ghost stories read at leisure strike back indicating a definite possibility of a similar encounter. With a heavy heart and the possibility of coming across an evil spirit, they enter the other room to see a lady cooking food, in a corner of the room. Her baby is playing in the crib and a pet cat is crying in another corner. The story teaches us a lesson of not giving up on situations, and building presumptions about them, until you encounter them.
This session encouraged the teams to come up with the thoughts that, at first, seemed a bit crazy and quirky, but were then developed to build a story that went on to be appreciated by all present. The objective was not to reward or criticize ideas, as judgment stunts lateral thinking and also limits creativity. In a nutshell, it was a rejuvenating activity that pulled everyone out of their daily routine, and yet gave us some good problem-solving lessons, and a deeper insight into collaborating and working as a team to accomplish a common goal.
Do you also participate in any such sessions or activities? What are your favorite approaches to problem-solving? We would love to know your thoughts. Leave your comments below.