Assess your Organization's People Analytics Maturity Level
Author: Gautam Mainkar
Posted On Oct 04, 2016 | 3 min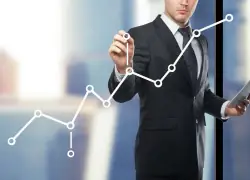 People analytics is a data-driven approach to manage talent, and identify talent related problems at the individual and the organization level. People analytics is a broad term which encompasses a large number of different techniques. Every problem faced by the organization is unique and requires solutions of different sophistication and complexity.
In an organization, there are various data sources like:
People Data – Employee engagement, demographics, and skillsets
Program Data – Project assignments, attendance sheet, training & development, and leadership programs participation
Performance Data – 360 feedback, one-on-one sessions and surveys
Most of the organizations generate the data mentioned above; however, this data is mostly unutilized or underutilized. In certain cases, they are not even aware of such data being created.
People analytics gives organizations the capacity to leverage the data in order to address challenges faced not only by HR, but also the core business. It provides organizations the ability to develop and implement a people strategy in line with its business strategy, thereby improving performance across a broad range of metrics.
According to a survey from Deloitte, only 15% of the organizations believe that their HR teams have high credibility in talent metrics and analytics. A People Analytics ready organization is one that can use the data effectively to identify HR problems in order to pre-empt them or find a solution. The maturity level of an organization's people analytics framework depends on its ability to implement solutions to different types of problems. The Maturity Model of a people analytics system published by Bersin is shown below: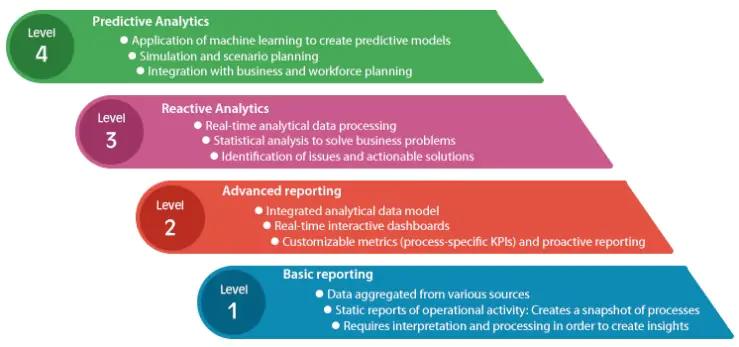 In another survey conducted by Deloitte on the above Maturity Model, out of 435 organizations, only 56% were operating at Level 1 and showcasing a reactive approach towards the use of analytics. It was observed that only 30% of the organizations were operating at level 2. As we move further, 10% of the organizations were found at level 3 and only the remaining 4% were operating at level 4. These statistics indicate that there is a tremendous opportunity for organizations to apply talent analytics to apply talent analytics to identify and address talent related problems before they happen, drive greater output through higher workforce engagement level, and improve decision-making capabilities through data-driven capabilities.
The higher an organization is on this maturity scale, the better its capabilities to solve more complex problems and develop a mature people strategy. With ever-increasing amounts of data becoming available to organizations, people analytics is fast becoming a strategic necessity rather than a luxury.
Interested in learning how implementation of people analytics improved the talent acquisition quality of a midsize software services company, while significantly reducing the effort? And how people analytics helped an established organization bridge the workforce skill-set gap, and improved employee engagement? View the webinar recording here.
You can map your organization's maturity level based on the sections present in the Maturity Model. To perform better and to enhance your organization's output, a strategy can be formed and data can be extracted from the pillars of talent management, which include performance management, and analytics, talent planning, learning and development, and recruitment. Furthermore, Harbinger can help you assess your analytical framework against the maturity model and help you satisfy your current analytics needs.
We are glad to inform you that we are exhibiting at the HR Technology Conference & Exposition, at Chicago's McCormick Place from October 4-7, 2016. Visit us at booth #549 to find out more about how we help HCM product companies discover and analyze workforce related data across the enterprise.