Apps World North America 2015 – Conference Highlights
Author: Rishikesh Agrawal
Posted On Jun 12, 2015 | 3 min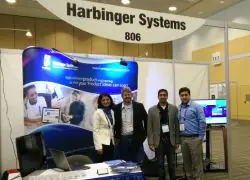 Bay Area always has a fascinating story to tell when it comes to technology. Plenty of companies in the sector, whether big or startup, technology runs on the street. People here like to engage in discussion and get insights from any source available and this is the best part for a country which thrives on innovation.
Recently, I attended the Apps World North America conference in San Francisco. Apps World is known as the top conference in the space of Mobility, IoT, and Big Data. This expo was set up in the Moscone center which is in the heart of San Francisco. Apps World witnessed participation over 350+ exhibitors, niche workshops, 10 conference tracks and over 10,000+ attendees. Each floor had a different technology focus, as mentioned; the Apps World conference was massive. Keynote speakers from various well-known companies participated to educate others and share their success stories. Entrants like Eric Migicovsky, CEO and Founder, Pebble Technology and Steve Guggenheimer, Chief Evangelist, Microsoft were also present.
IoT was a showstopper among all the expo zones, it was like a honey comb where every bee was attracted to see the new innovative concepts/products in this emerging field.
The invite was free for students, entrepreneurs and most of the visitors who wanted to be a part of such a big event and experience the current trend in technology. My experience in connecting with industry leaders was great; I found them to be dedicated, focused and good orators.
The Keynote by Pebble founder, Eric, definitely fits the description above. He shared his success story and how Kickstarter, a crowd funding platform, had backed Pebble to realize wearable device vision. Eric also shared his outlook towards the wearable tech market, saying we have barely scratched the surface, and how there is much scope for the industry to reach the next level.
Companies who were exhibiting had their own USPs in terms of showcasing their product, most of them being platform agnostic offerings focused on security or testing for mobile applications.
Apps World had a dedicated zone for startups called as the Startup Zone. This was further segmented into a number of different sectors which focused on key niche industry areas such as Connected Car zone, Wearable Technology zone, TV apps zone, Mobile Payment zone and Gaming Village zone. They had paid workshops for Mobile strategy, Mobile payment, Retail, API strategies, HTML 5, etc. These, zones also consisted of free to attend sessions such as Developer World, Droid World, CIO Summit, Gaming World, Connected Car, etc.
It was good to connect with fellow industry leaders and know their views on rapidly changing technology. As mentioned above, most of the companies showcased their capacity as a platform agnostic provider, being well aware of the market demand for mobile-based technology. On the other side, it was interesting to see many firms investing their resources on newer technologies such as wearable IoT, Push technology, connected car technology, etc.
There was one interesting zone called "Hackathons" where all the developers, designers and even non-programming business users compete with each other and write a code using any of the sponsors API. It was an interesting event; the adrenaline rush was high as quick code generation was done in stringent time slots. Challenges were given by sponsors such as Honda and Wavemaker. There were a good number of attendees who participated in this event and won various goodies.
Harbinger Systems was an exhibitor at the Apps World and had a booth #806, where we showcased our industry practices and innovation in the space of IoT. We received good traffic to our booth and had a great time interacting with many business owners, entrepreneurs and enterprise executives.
Overall, it was a great experience attending the Apps World 2015 conference. I am eagerly awaiting to experience most of the innovative concepts showcased in the conference. Do share your thoughts/experience of Apps World in the comment section below.