Apple Watch Apps in Action
Marketing Desk
Posted On May 07, 2015 | 2 min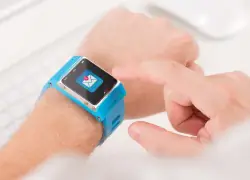 Wearable technology has surpassed the initial "hype-phase" and is now beginning to churn some serious numbers, most of it has already begun to enhance and simplify our living. According to International Data Corporation (IDC), wearable tech vendors will have shipped a total of 45.7 million units by the end of 2015, more than double from the 19.6 million units in 2014. And by 2019, vendors are projected to ship around 126.1 million units of wearable devices. Now, who would not want to enter this lucrative market which is projected to grow with a CAGR of 45% till 2019?
All this fervor can make people miss the forest for the trees. For wearable tech to achieve mainstream consumer adoption, there is a need to develop a robust wearable app ecosystem.
A happy time to be an Independent Software Vendor (ISV) or an app developer in the wearable device market!
The recent launch of Apple Watch has certainly favored the cause for widespread adoption of wearble devices. To counter the above mentioned challenge of limited number of apps, Apple had released the software development kit, known as WatchKit for the app developers. And as per the recent announcement from Tim Cook, the number of apps for Apple watch has surpassed 3500, a good jump from the initial number of apps for the iPhone and iPad.
Apple watch has presented a new type of user interface to the consumers and developers alike. The apps designed are slightly different than the ordinary apps, from the form factor to a whole new set of interactions. Starting from viewing text messages and images, getting the latest stock updates, to simply swiping at a point of sale counter or waltzing into a hotel room with your wrist device as the key..the list keeps on growing. Apple Watch, with its tremendous usability applications, truly offers a wide range of options for developers to create innovative apps.
Harbinger Systems hosted a live webinar "Apple Watch Apps in Action" on June 10, 2015. Attendees got insights to the intricacies of developing an app for Apple Watch along with an interesting live demo of a model app.
The Webinar Key Takeaways:
Introduction to Apple Watch- The capabilities, key features and highlights
Guidelines for developing apps for Apple Watch
Recommendations on privacy and security settings
Opportunities on how users can interact with Apple Watch
Live demo of a model app
Road ahead for Apple Watch Applications
Thank you for the great response to this special webinar!
You can view the presentation and the webinar video here