6 Simple Ways to Develop an Eye for Detail
Priya Tiwari
Posted On Aug 10, 2016 |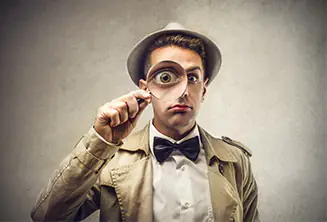 "I love the way your team pays attention to details and picks up such little things that are easy to ignore," said one of our clients on the call last evening, when we were discussing the project highlights. This annotation from the client, made me think about the importance of paying attention to details and its impact on the overall quality of the courses we create.
In the e-learning industry, quality is one of the biggest criteria that helps an organization stand out amongst others. Everyone involved in the project is responsible to ensure the courses delivered are free from not only the obvious issues (technical and/or functional), but also the small things that require a keen eye to detail.
According to author and media expert Michael Levine, the biggest problems in any business arise from ignoring the smallest of detail. And as an instructional designer, I believe that paying attention to details should be put into practice right from the beginning of the project. Even the minutest of the things, if carefully looked at, right from the start, can help reduce errors, increase efficiency and enhance the finishing of the final product.
However, it's not as simple as it sounds; paying attention to details is a skill that needs to be acquired and just like other skills, it requires a conscientious practice.
Here are 6 simple ways to develop an eye for detail:

1. Research before you begin: Do some study before you start a new assignment. For example, get to know your customers, their preference of language, writing styles, graphics, color schemes, and do not hesitate to ask detailed questions. The more thorough you are while asking questions in the beginning, the better it is for the project at later stages.
2. Make friends with checklists: Checklists come very handy when you have to work on multiple projects simultaneously, with each project following different standards. These are effective little tools that help you improve your attention to detail by keeping a track of what you might otherwise miss. The habit of creating checklists pays off well.
3. Use MS Office tools: MS Office tools are your saviors for many small slips, like typos, inconsistent formatting of your bullets, different capitalization method for the section headers in your document, and inconsistent spellings (for example, e-learning vs eLearning). These negligible slips may not be seen up-front but give clients an opportunity to form a not-so-good impression about your work. MS Office tools can help you fix these slips to a great extent. For example, F7 can check spellings for you, Ctrl+Shift+C and Ctrl+Shift+V can be used to apply the same format across all pages, and the Find and Replace option can help in maintaining consistent writing styles.
4. Review your work: Review your documents a couple of times to ensure nothing looks out of place. If possible, have another pair of eyes review your work and provide feedback. It's always good to invite another person's perspective as it gives you an opportunity to think deeper on what you may not have previously considered.
5. Take a break: Yes! That's right. Take a break, grab a coffee or go for a quick walk if you start losing focus or feel tired. If you continue working when you can barely concentrate, you will end up missing out on details. So, take some time out for yourself and resume work when you feel refreshed.
6. Do not rush: Take time to complete your work as speed induces errors. There are occasions when you have multiple deliverables in the same day or week. Plan your tasks as per priority so that you can give enough time to each deliverable without overlooking small things that may make a big difference.
And it doesn't stop there. Learning how to pay attention to detail is a continuous exercise, even for people who have a keen eye for detail.
So, slow down… and start paying attention to details using these tips as your checklist, and let the quality of your work define you.
Any more suggestions/tips on how you can develop or improve upon this skill? Share your ideas here.