3D Printing Captivates the Consumer Market
Author: Eshan Sarpotdar
Posted On Nov 07, 2014 | 4 Mins Read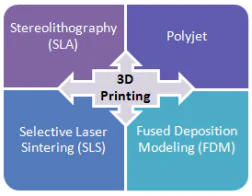 A 3D printer can create unimaginable artifacts that can be used for several designing purposes. A 3D printer can deliver state-of-the-art 3 dimensional solid objects from scratch. According to IDTechEx's report, the demand for 3D printing software, apparatus, and production material will witness a considerable rise from 1.5 billion dollars in 2014 to 4 billion dollars in 2025. There are no limits to the design criteria since professional printers can create anything from a digital file.
Over 200 startups have invested in developing consumer based 3D printers worldwide. Gartner's report also mentions the pricing of these printers to start from hundreds of dollars which are further shooting to millions of dollars as per the requirements. 3D Printing software has adapted to new trends because of challenging surroundings, developing a 3D object today is quicker than back in the 90's.
The Aerospace and Manufacturing industry are some of the leaders to incorporate the use of 3D printing for their processes. Inventions that have minimized costs and improved efficiency are being developed under the 3D printing umbrella.
3D printers have multiple types of technologies for bringing objects to life. The common technologies used for printing are: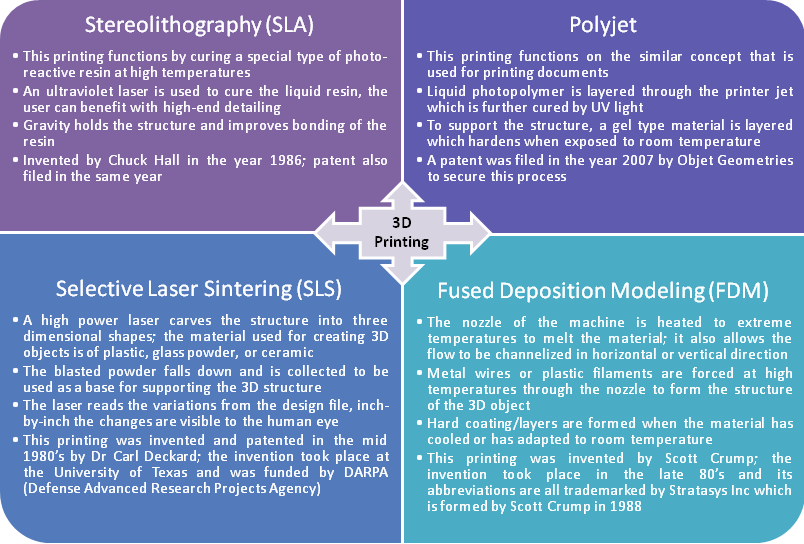 The different domains that include 3D printing with their functioning applications are as follows:
Architecture: Involvement of 3D printing in architecture has unlocked ideas that can reach new dimensions.
With the use of 3D printing technology, structures can be checked from the aspect of safety and durability
Wind tunnel tests are performed against these prototypes to know if the building can survive winds at high speeds
Testing software helps in understanding the nature and dynamics of the structure with its reaction at different wind speeds. By this, one can overcome the difficulties faced during the construction of a building as per the safety guidelines.
Healthcare: 3D Printing has revolutionized healthcare and medical engineering to new levels.
Doctors can reconstruct human body parts through 3D printing software. The applications programmed to design human body parts need to have a clear understanding of computing and human anatomy.
These applications ensure to rebuild the damaged human parts (bones) by overcoming several parameters which include pressure, movements and flexibility
3D printing software can easily relate and show the results of the above mentioned parameters on the human body, therefore carving out the shapes as per the requirements
Prototyping: A prototyping involves creation of equipment/machinery which will be tested to standout for real time.
3D printing software enables the user to try out different variations which can help in smooth operation of the machinery/equipment
These variations are tested to understand if the end product can suffice the surroundings in which it will be used at its maximum capacity
If the printed design fails in any aspect, the user can alter and perform the corrections in the application itself
Heavy machinery is prototyped through 3D printing to know its performance. Its failure and success depends on the tests that are performed before going ahead with full-fledged manufacturing.
Such tests help in saving huge investment costs since prototyping of one unit costs less than 1/10th of the actual product cost
Education – The Education sector has benefited from 3D printing at a larger scale.
Students enrolled for medical or engineering domains can witness a huge change in their curriculum because of 3D printing
3D objects defining the human part or an engineering device are straightly manufactured for enhanced learning
Students can view the actual functioning of an engine or a body part through 3D printing
Since 3D objects are manufactured with greater efficiency and detailing, it is possible to dive in the depths of the design and deliver exceptional output
The above mentioned data establishes 3D printing as a pivotal part in supporting the much needed technological advancement for various domains. Let us look at the timeline of 3D printing from the year 1984:

3D printing is predicted to manufacture clothing, lifestyle goods, electronic items, etc. by 2025. Full-fledged manufacturing can be expected that would satisfy the needs of every demanding customer. Functional artificial limbs and human organs are in pipeline and are speculated to be in production by 2020. The world as we know has actually progressed over the period of time when it comes to 3D printing, and the growth is unstoppable.
References: